Resort Pools
Soak up the sun and fun in our seven outdoor pools or recline in our eight soothing whirlpools. At the Super Pool and Fountains Pool, water volleyball courts offer aquatic entertainment while the Main Activity Center and Tacky Tiki Bar and Grill provide the necessary equipment. Weekly fitness classes—such as Aqua Fusion, Aqua Yoga, or Aqua Zumba—are available on the pool decks or directly in the pool. Meanwhile, the Cascades, Fountains, and Super Pools all offer poolside shops stocked with a variety of pool toys, sunglasses, floaties, poolside wear, and towels.

Festive pool bars and adjacent restaurants at each of the three main pools provide refreshing poolside beverages and snacks, while cream-colored cabanas at the Cascades, Fountains, Lakes, Springs, and Super Pools present private poolside shade. Available on a first-come, first-served basis, the complimentary cabanas each house a table and four lounge chairs.

Please note that guests must be 16 years or older to use the whirlpools.
Fountains Pool
Bask in the bright Floridian sun at the nearly 18,000-square-foot Fountains Pool. Surrounded by palm trees, the inviting pool delights the whole family. Kids can splash under the waterfall or in the adjacent kiddie pool, while adults recline in the whirlpool. Lounge chairs offer post-swim relaxation while the Tacky Tiki Bar and Grill delivers poolside food and beverages.

Hours: 8:00 AM - 1:00 AM | 17,670 sq feet | 3-6 ft depth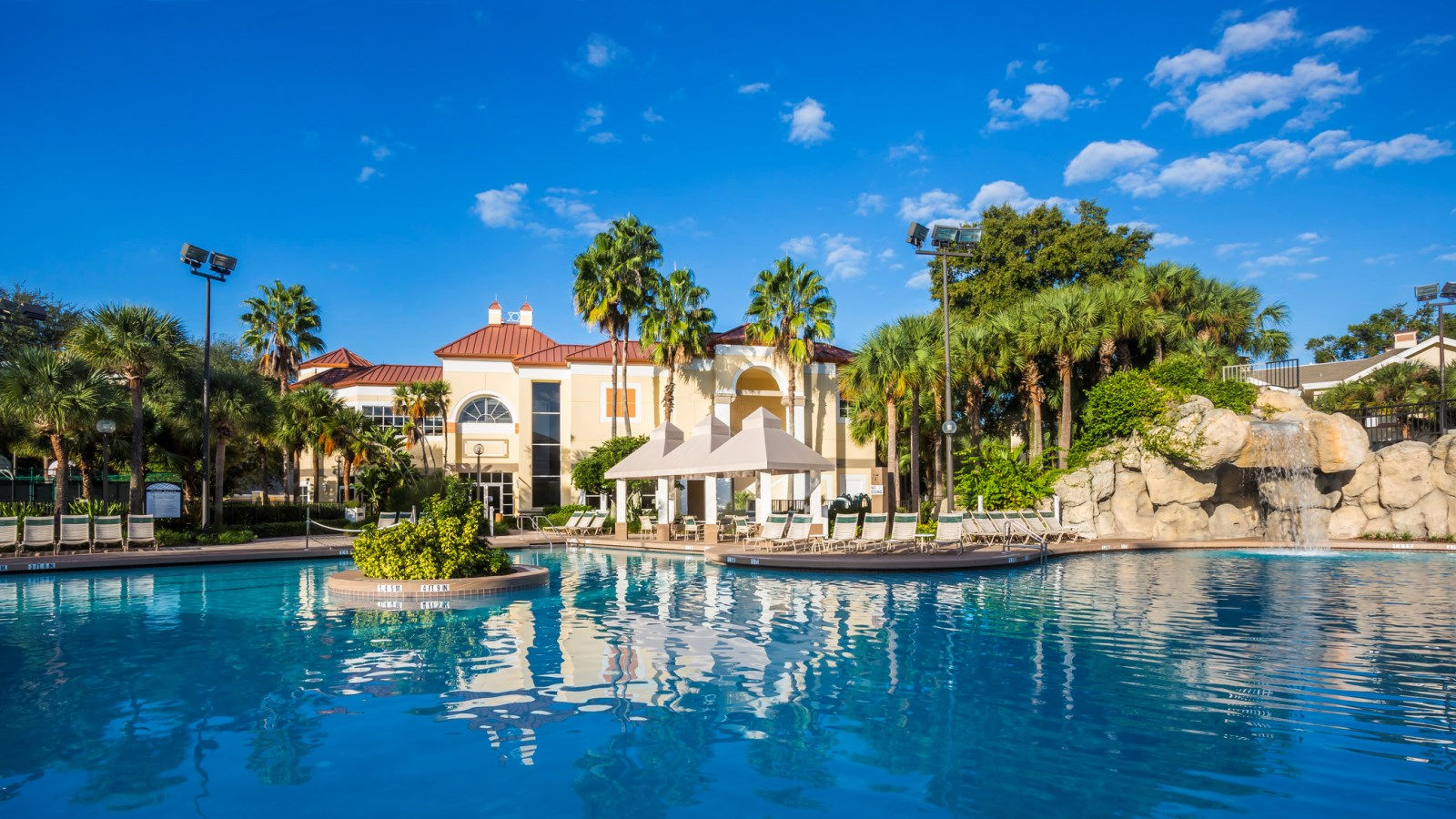 Cascades Pool
Gather with friends new and old at the nearly 14,000-square-foot Cascades Pool, named for its in-pool waterfall. Overlooking the resort pond and its oversized fountain, the spacious pool is surrounded by palm trees and flowers, and bordered by lounge chairs.

Hours: 8:00 AM - 1:00 AM | 13,920 sq feet | 1 - 5.5 ft depth
Within the pool, water jets captivate kids, who can also play on the shallow side of the pool, which features soft, child-friendly flooring. An adjacent whirlpool adds to the relaxation, while the neighboring Cascades Bar & Grill and The Market Place serve up beverages and bites.
Super Pool
Spend the entire day at the Super Pool. Wrapped in palm trees, this 11,000-square-foot pool features an expansive deck populated by lounge chairs and two whirlpools. Additionally, Zimmies Casual Eatery and Sports Bar offers poolside delivery of delicious food and beverages.

Locker rooms, showers, and a sauna are located next door in the Spas Recreation Center.

Hours: 8:00 AM - 1:00 AM | 11,000 sq feet | 3 - 4.6 ft depth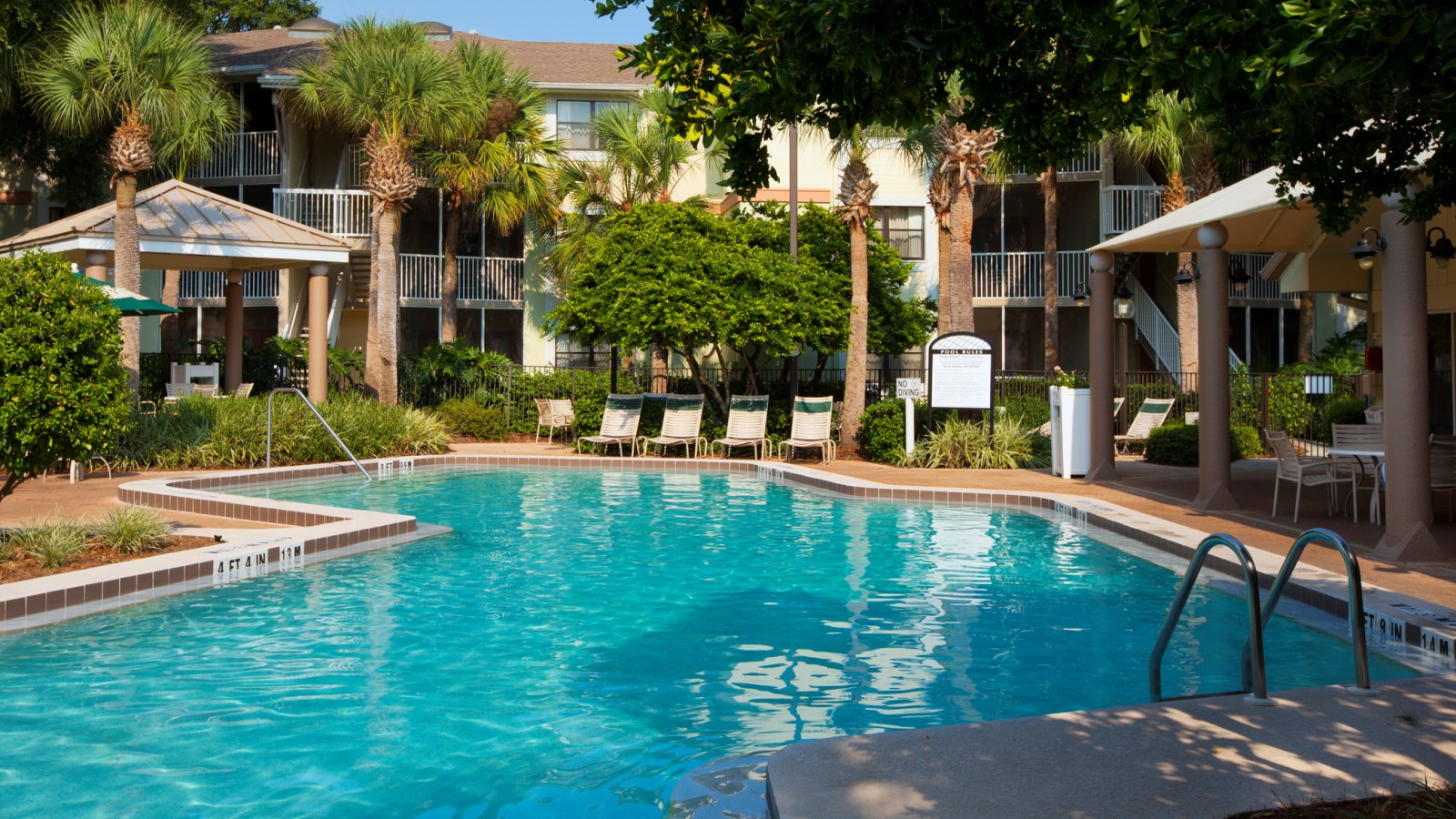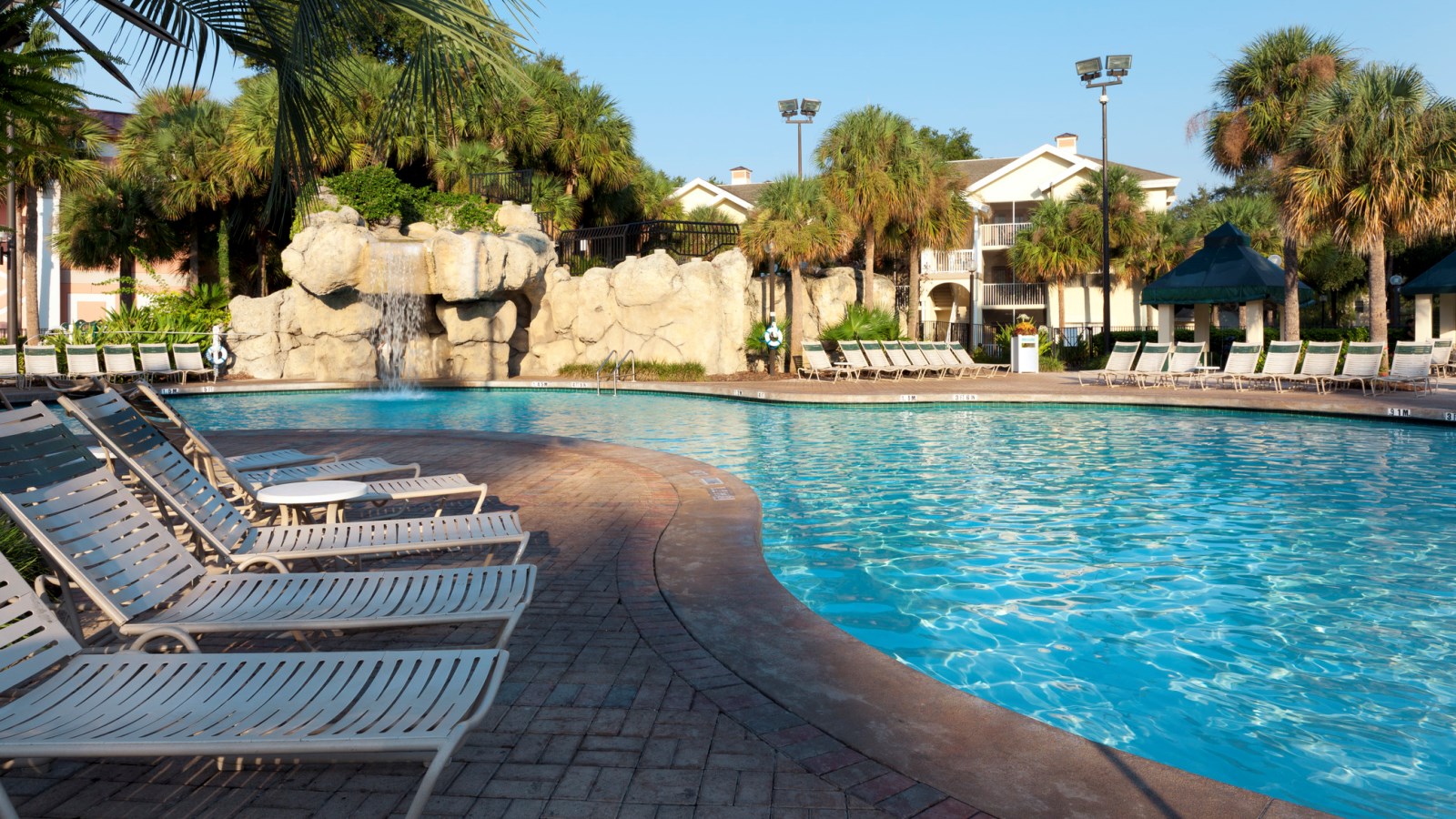 Springs Pool
Splash or relax at the Springs Pool. Along with heated waters, it features a pool deck with lounge chairs and a whirlpool, while its location adjacent to the Springs Activities Center places it in proximity to a sauna and steam room.

Hours: 8:00 AM - 10:00 PM | 2,701 sq feet | 3 - 4.75 ft depth
Falls Pool
Gather the whole family at the Falls Pool. Overlooking the tennis courts and surrounded by palm trees and lounge chairs, the 5,250-square-foot pool boasts a waterslide, kiddie pool, and a whirlpool. Poolside dining comes courtesy of The Outpost Bar.

Hours: 8:00 AM - 10:00 PM | 2,702 sq ft | 3 - 4.75 ft depth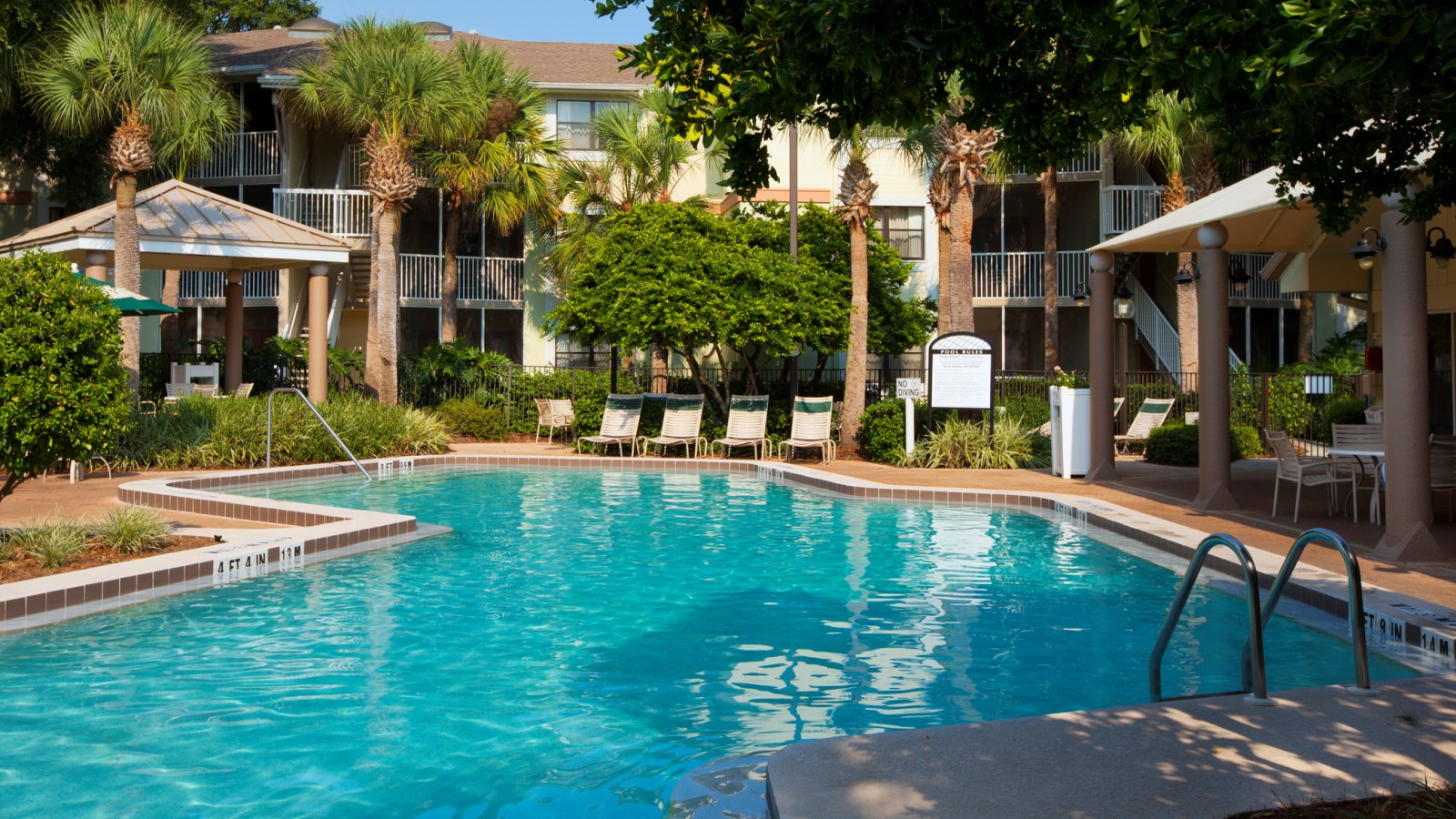 Lakes Pool
Soak up stunning scenery and sunshine at the Lakes Pool. Offering views of the resort pond and fountains, the zero-entry pool is surrounded by palm trees, tropical plants, and lounge chairs.

Hours: 8:00 AM - 10:00 PM | 5.427 sq feet | 3 - 5.25 ft depth
Courts Pool
Marvel at luscious Floridian foliage from the Courts Pool, which is also home to a kiddie pool, whirlpool, and deck with lounge chairs.

Hours: 8:00 AM - 10:00 PM | 2,530 sq feet | 3.5 - 6 ft depth